Mini Logo™ Trucks
NEW, Mini Logo™ high-performance trucks combine strength, stability and smooth turning all in a lightweight design through the use of premium alloys, high-rebound bushings and precision axles. Developed at Skate One Corp for over 5 years, the shape, materials and finishes have all been refined to make them perfect for MILITANT skaters right from the first grind. Check out what official MILITANT#8, Tyler Harker, from AZ had to say…
"With all the trucks I have had in the 7 years I have been skating, I would have to spend close to a week just getting the bushings and trucks where I could skate them comfortably. With Mini Logo trucks, I was able to skate with comfort and ease from day 1! All I can say is from now on the only trucks I will ever want to buy will be these Mini-Logo trucks, purely because of how great they have skated."
Thrashed and compared to the premium trucks they had previously been riding, the feedback from the official MILITANTS throughout the U.S. proves Mini Logo trucks are among the lightest, strongest and quickest turning trucks at any cost.
Available in a popular range of sizes, and variety of finishes…skate Mini Logo trucks and GET MILITANT!

Mini Logo™ Deck Construction
Hand made using only the finest materials, Mini Logo™ is the leader of high performance/price point decks in the Industry. Warranted against de-lamination for the useful life of the deck and managed in our Santa Barbara Headquarters, Mini Logo™ utilizes 35 years of deck building experience and knowledge to truly deliver the best sizes, shapes and POP for less!
SHAPES AVAILABLE / SPECS
*A = NATURAL / G = Green / M = Maroon / N = Navy / O = Orange / X = Black / Y = Yellow
| Shape | Concave | Width | Length | Wheel Base | Nose | Tail |
| --- | --- | --- | --- | --- | --- | --- |
| 191 | K16 | 7.5" | 28.65" | 12.25" | 6.2" | 6" |
| 124 | K12 | 7.5" | 31.375" | 13.875" | 6.75" | 6.5" |
| 126 | K12 | 7.625" | 31.625" | 13.75" | 7" | 6.625" |
| 112 | K12 | 7.75" | 31.75" | 14" | 6.875" | 6.625" |
| 188 | K12 | 7.88" | 31.66" | 14.25" | 6.875" | 6.39" |
| 127 | K12 | 8" | 32.125" | 14.375" | 6.875" | 6.625" |
| 170 | K15 | 8.25" | 32.5" | 14.375" | 7.125" | 6.75" |
| 181 | K15 | 8.5" | 33.5" | 15" | 7.375" | 7" |
Each deck is created from 7 plys of hard rock maple, fused in Skate One's special low stress, AirLam™ presses, with water resistant, high strength glue and sealed against moisture with a lacquer semi-gloss finish. The bottom of Mini Logo™ decks are treated with a multi-layer coating consisting of a wood sealer layer and two full length colored ink layers for longer slides.
Mini Logo™ Deck Concaves
K12

A double kick nose with extra deep concave that adds significant stiffness to a deck. This allows us to reduce a K12 deck's thickness and weight without losing pop and response. It also features a steep, flat nose and tail.
Maximum wheel base—14.50 inches. Non-symmetrical nose to tail.

K15

Consider this an upgrade that replaces the K10 concave. A double kick nose with deeper, smoother concave, longer wheelbase, concave kick on nose and tail and a scoop tail for a more secure foot placement without feeling trapped. A big boy version of the K12 allowing all terrain ripping with the stability of a longer wheelbase. Less wheel bite because the steeper concave goes out to the edge of the board.
Maximum wheel base—15.75" Non symmetrical nose to tail.

K16

This is like our K12 with a shorter wheelbase for smaller skaters.
Maximum wheel base—12.25 inches. Non-symmetrical nose to tail.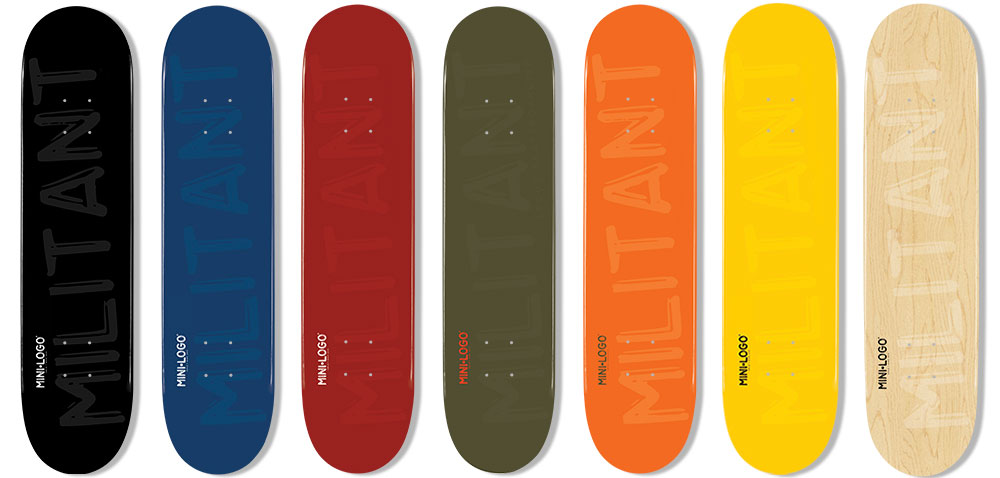 Mini Logo™ Wheels
Mini Logo™ high rebound, long lasting formulas provide more performance at a fraction of the price of most "pro" wheels. A number of our team skaters have told us that they prefer the way this compound skates over many more costly wheels. Mini Logo™ combines this high performance urethane with a simple graphic, and a popular range of shapes, sizes and hardnesses. Great performance and value guaranteed!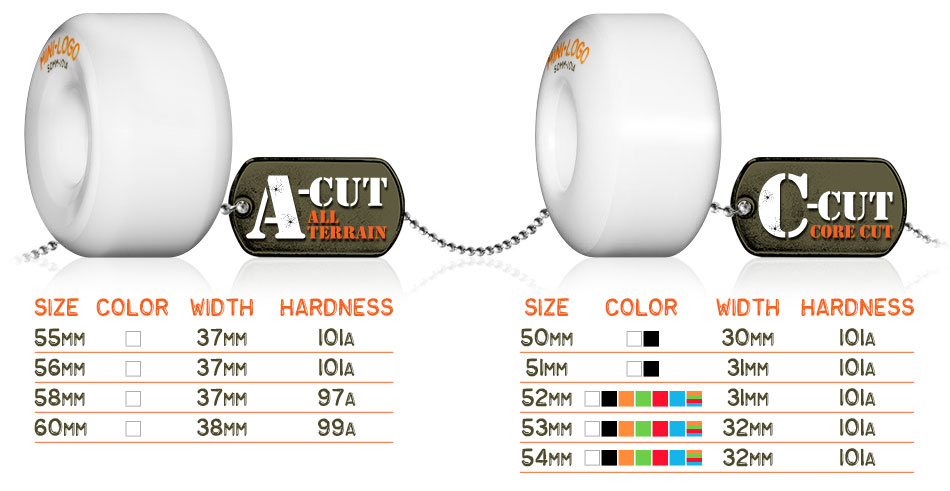 Mini Logo™ Bearings
Mini Logo™ Bearings are Skate Rated™, precision 608 bearings made to Skate One specifications. They have a removable rubber shield on one side, a removable metal shield on the other, a high speed molded ball retainer, precision ground and super-finished hardened chromium steel races and balls, and come pre-lubricated with Speed Cream™... twice the performance and half the price you would expect.

Mini Logo™ Grip Tape
Mini Logo™ Grip Tape is made using multi layered laminates to ensure the highest quality, longest lasting grip possible at any price! Special Pressure Sensitive Adhesive allows for easy installation and superior hold, while the Silicon Carbide Mineral Grit provides superior control. Check out the new MILITANT stenciled backing paper! Grip your deck, cut out the stencil and spray your tape...GET MILITANT and support the movement!!!